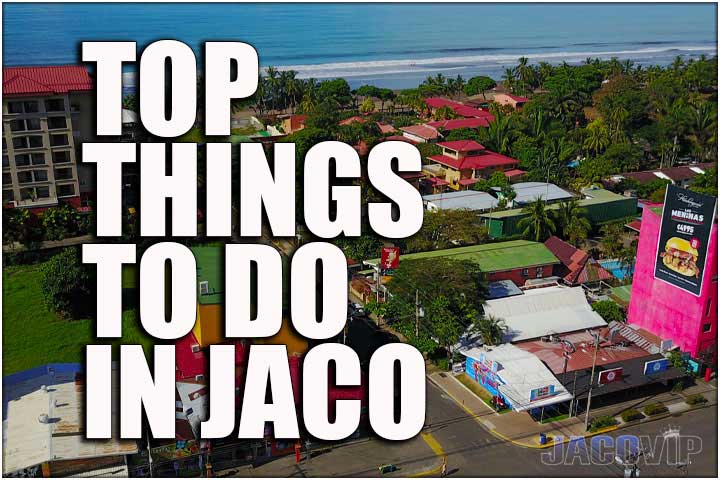 Aerial view of Calle Cocal and Jaco Beach.
Things to do in Jaco Costa Rica
Author: Pete Soma | Published: June 30, 2020
There are many awesome things to do while on vacation in Jaco Costa Rica so it was an obvious choice to write about this topic. I am living here in Jaco for more than ten years now and have recently started publishing articles about the area.
Here is a category list of top things to do while on vacation in Jaco Beach Costa Rica:
Beach & Ocean
SUP, Surfing & Surf Lessons
Miro Mountain, Monkeys & Jungle
Tours, Excursions & Day Trips
Los Sueños Marina & Sport Fishing
Drink Coffee & Eat Chocolate
Local & International Cuisine
Jaco Nightlife
Murals & Local Artwork
Farmers Market
Festivals and Events
Scroll down to see and read more about each category.
This is something like a "best of" list - the short version, and in no particular order (other than flow) - but does not include everything. The page would be too long. There will be somewhat regular updates, so come back again for new references.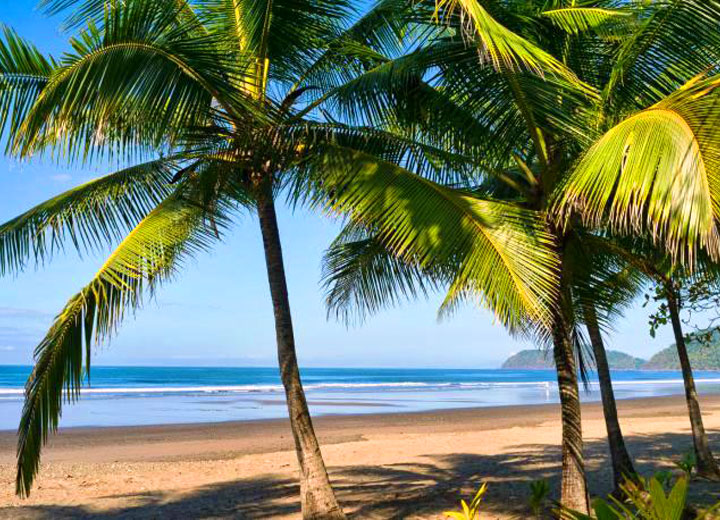 Palm trees on Jaco Beach.
Chill on the Beach and Swim in the Ocean
Jaco Beach:
Sometimes you just want to lay back and soak up the sun. Grab a towel and head for the beach. Jaco Beach is 2.5 miles (4 kilometers) of cinnamon color sand. The sun is hot during the afternoon hours, and the water is warm pretty much all year round, so you can easily step right in and enjoy.
The waves are small to non existent during low tide, and medium during high tide, so it's usually safe (with common sense practices) to swim and play close to shore.
Happy Hour.
There is no boardwalk in Jaco, but there are a few beachfront restaurants spread out from one end to the other where you can have a cold beer with snack and enjoy the view. Check out
The Point
near the South end,
Koko
near the center, and Clarita's at the North end.
SUNSETS are a BIG DEAL
here in Jaco as they are often quite spectacular with the sun setting directly into the pacific ocean. Almost every beachfront bar and restaurant will have some sort of view.
The most highly recommended Jaco Beach sunset activity is to grab a beer and go stand with your toes in the sand!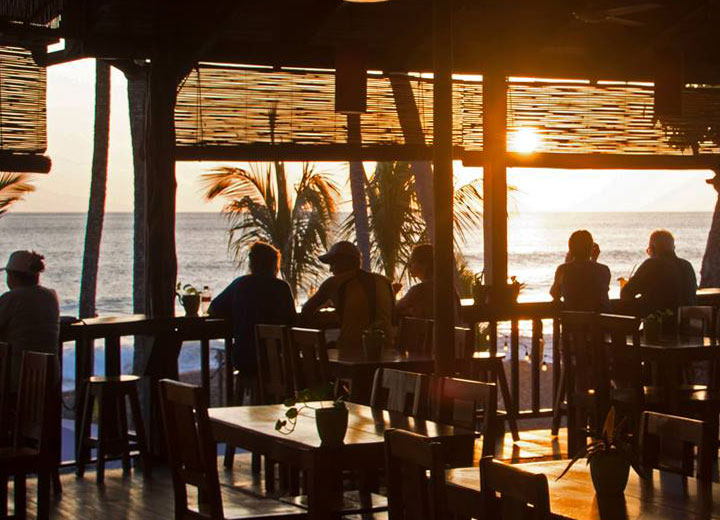 View of Hermosa Beach from Vida Hermosa restaurant.
Hermosa Beach:
15 minutes south of Jaco, Playa Hermosa is a much longer beach, but with a very small developed area. There is a cute strip of restaurant bars that are worth the visit. Check out
Vida Hermosa
for delicious meals and perfect ocean views. They often have live bands or a DJ on most weekends.
The waves in Hermosa are much bigger than Jaco, and there is much more rip curl and undertow. It is not ideal, nor recommended, for swimming and playing in the ocean, but it is a fantastic place for intermediate and advanced surfers. Professionals and celebrities like
Kelly Slater
and members of The Red Hot Chili Peppers have been spotted riding waves here.
Sea Turtles Refuge.
The southend of Playa Hermosa is a protected beach and wildlife sanctuary. This is also home to the Sea Turtles Refuge. Ridley turtles return to their Hermosa beach birthplace to lay eggs for the continuation of their species. The eggs are collected by volunteers and locals from the nearby areas and brought to the guarded turtle nursery. Hatching turtles can be seen at this refuge (usualy in December) but can also be spotted on other beaches including Jaco.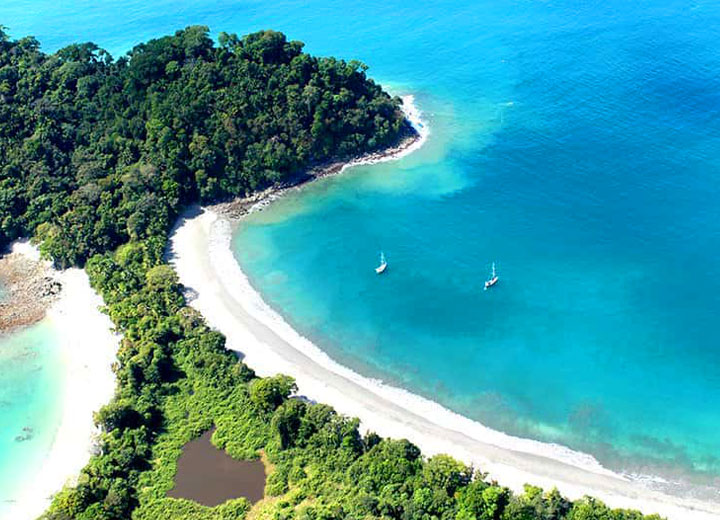 Beaches at Manuel Antonio National Park.
More Beaches in the area:
15 minutes to the north you will find Herradura Beach and home to Los Sueños Resort and Marina. There are boats in the bay, and almost no waves. Great place for SUP (Stand Up Paddleboard) rentals and lessons. There is one locals bar and a couple restaurants on the beach, but not much else.
30 minutes away are the postcard perfect beaches of Playa Blanca and Playa Manta. A bit of off-road driving might be worth it to you. Bring your own water and food as there is a private resort (no public access unless you are staying there) which takes up all of the surroundings.
One Hour to the South is the spectacular
Manuel Antonio National Park
and is a great place to go for the day. There is public beach at the base of the town without admission to the park, and then two more white sand beaches inside the National Park. Small white faced monkeys, raccoons and iguanas are common to the beach and have been known to steal a lunch or two.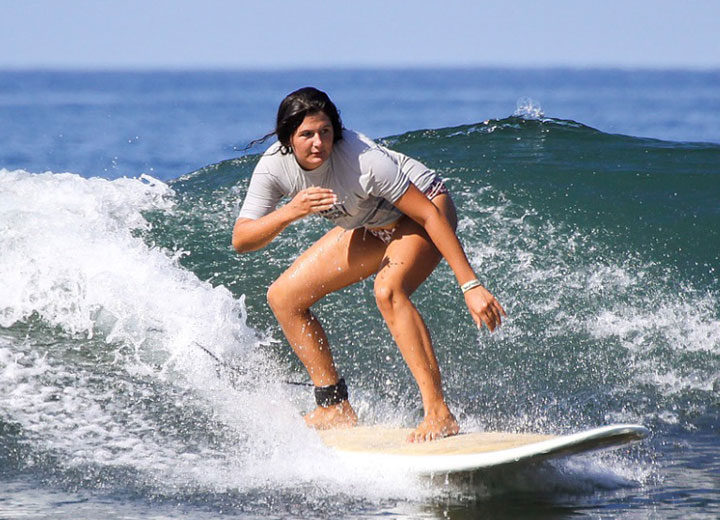 Surf lessons in Jaco.
Surf... or Learn to Surf
Jaco Beach is one of the best beaches in the world if you have ever wanted to learn to surf, are a beginner surfer, or just need a few refresher waves. The water is warm and the waves are nice and consistent during high tide.
If you have never tried surfing, or it has been a long time, then
surf lessons
in Jaco are highly recommended. Instructors will go over the basics and get you up on your board and surfing usually within the first lesson.
The local surfers are generally friendly and you'll hear them cheering you on. If you are new to the sport, the south end of the beach tends to be more beginner friendly with smaller waves, and as you start getting better, head to the north end. Check out the
Jaco Beach tide cycle
to plan your surfing with or without lessons.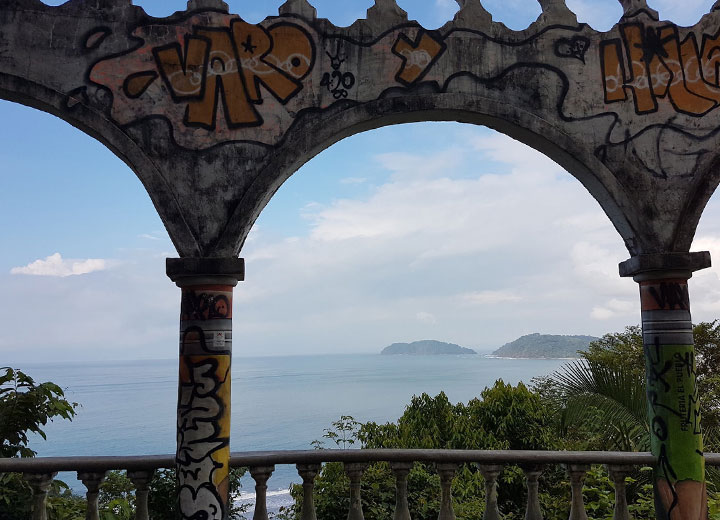 View of Jaco bay from Miro Mountain.
Photo by Evangeline Soumalias.
Hike Miro Mountain
Located at the southernmost tip of Jaco, Miro Mountain is a local favourite for morning hikes or sunset views. Depending on where you are in town you could walk or cycle to the foot of the mountain, or you can take a cab there before starting the hike. It's worth an early morning start for the cooler air and better chances of catching some wildlife.
Make sure to bring water, and a phone with decent camera.
It is common (but not guaranteed) to see dart frogs hop across the path, blue morph butterflies, white face monkeys in the trees, toucans, scarlet macaws, ants carrying all sorts of leaves and flowers, wild turkeys and more. It is not quite deep jungle, but close.
Insect repellent is not usually necessary, but maybe yes if you are highly sensitive or prefer to be covered. It's pretty warm here, even in the early morning hours, so shorts and T-shirt are recommended. It is a wide trail and no reason to brush up against any shrubs or trees where pants would be better protection.
The first 100 steps of the hike is the steepest and paved, but once you get past the only house, the road turns to a dirt road, and the trees offer a canopy. The view becomes lush and vibrant. You'll pass a long and embossed mural on the trail that looks like ancient tribal art. It's not, but the original artist did a great job representing this style. It has been recently updated with new colors by a new artist.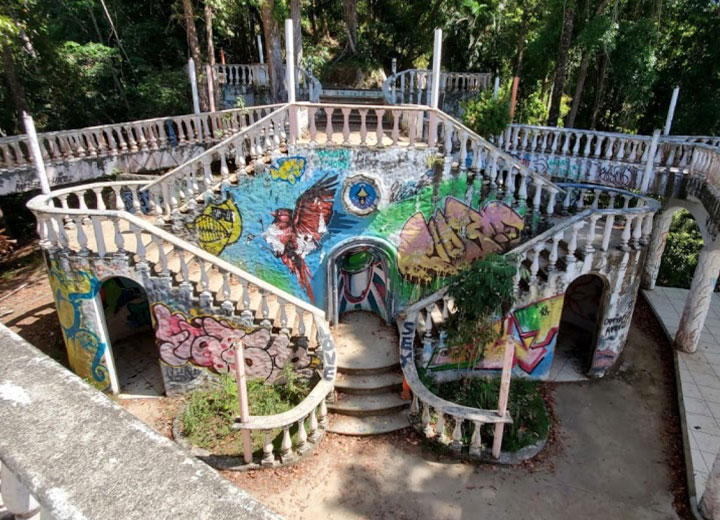 Ruins at El Miro. Photo by Shaun McConnell.
Ruins at Miro Mountain
The first pit stop is the Miro lookout balcony with a breathtaking view of the entire stretch of Jaco Beach and the town. Catch your breath and take some pictures before continuing your climb. You'll find signposts along the way to point you in the right directions. The path is defined, keep an eye out for cyclists who also use the mountain for training.
Further up you'll hit a fork in the road. Take the left and you'll continue to the El Miro ruins. Staircases and balconies remain from an incomplete construction. The walls and arches have mostly been taken over by the forest, giving it the feel of a lost civilization. With street art covering most of the structure it's a super popular spot for pictures.
Take the path on the right and you'll continue up the hill until you hit the next intersecting road. From there, you can see Hermosa Beach and keep going, or turn back. From base to this fork, and back down again, approximately 1 to 2 hours total time depending on speed of hike and how long you hangout along the way.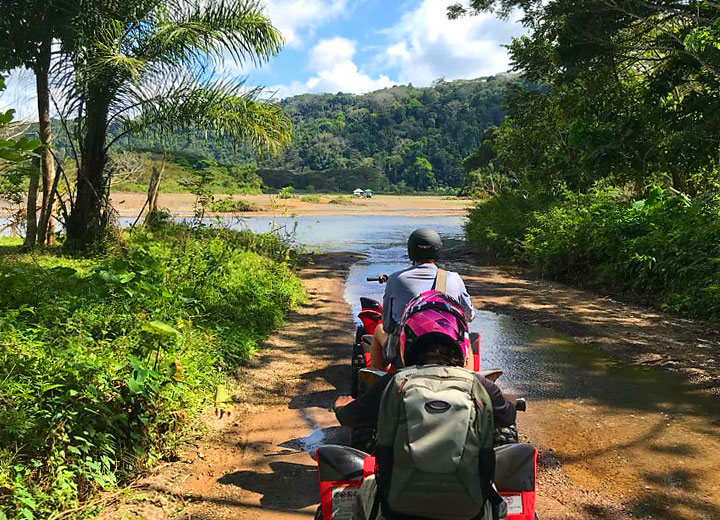 ATV Tour through rivers and jungle to a waterfall.
Tours, Excursions and Day Trips
From half day to full day, adrenaline to relaxing, there are rivers, islands, ocean, waterfalls, beaches, mountains, jungle and incredible wildlife in the Jaco area. Something for everyone but WAY TOO MANY to list them all here! Check out our
Jaco Tours and Excursions
page for more options and details. Below is a small selection of some favorites and most popular.
Half Day (2 to 4 Hours):
Some examples include the Chocolate Tour, Mini Dirt Bikes Track, Horseback Riding Tour and Waterfall Rappelling/Canyoning.
ATV Tour to Waterfall
There are many ATV companies in Jaco. The 4 hour
ATV tour to a waterfall
is the most popular and for good reason. First of all, it's
not
4 hours of riding, it's 4 hours total including stopping at the waterfall to jump in and get wet, and also a quick stop at a mountain top restaurant to have a beverage. Beginer or experienced driver, raining or dry weather, this is a lot of fun crossing rivers and riding through jungle trails. Bilingual guides and a back-road small town Costa Rica tour make this a must-do experience.
Zipline Canopy Tour
The nearby
zipline canopy tour
in Herradura is probably the best in the country. Views are spectacular and guides are well trained. Feels very safe and well organized. Highly recommended.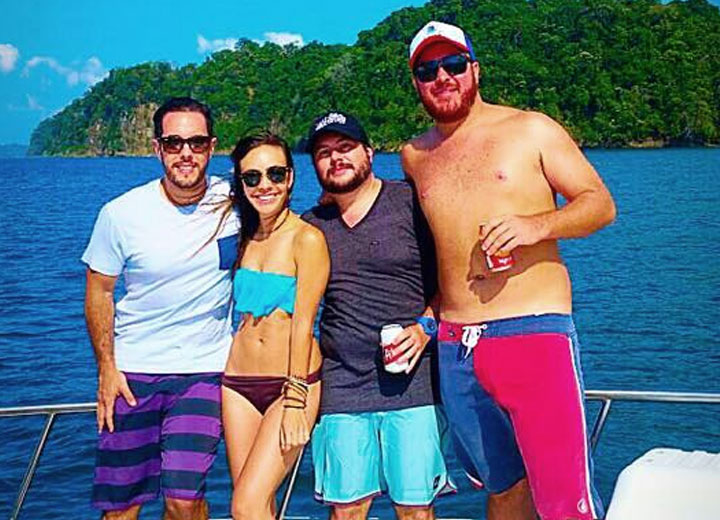 50' Private party boat in Jaco Costa Rica
Full Day (5 Hours or more):
Some examples include Manuel Antonio National Park, White Water Rafting near Quepos, Whale and Dolphin Watching (seasonal), Mangrove Monkey Tour, and Tortuga Island Catamaran Cruise.
Private Party Boat
Seriously.. How can it get better that this?! Soaking up the sun with your family and friends on a
private party boat
cruising by Jaco Beach and the pacific coast, sipping on cold drinks, a DJ pumping tunes, and maybe stopping at Tortuga Island or secluded beach along the way... This is the Ultimate Costa Rica Vacation Experience!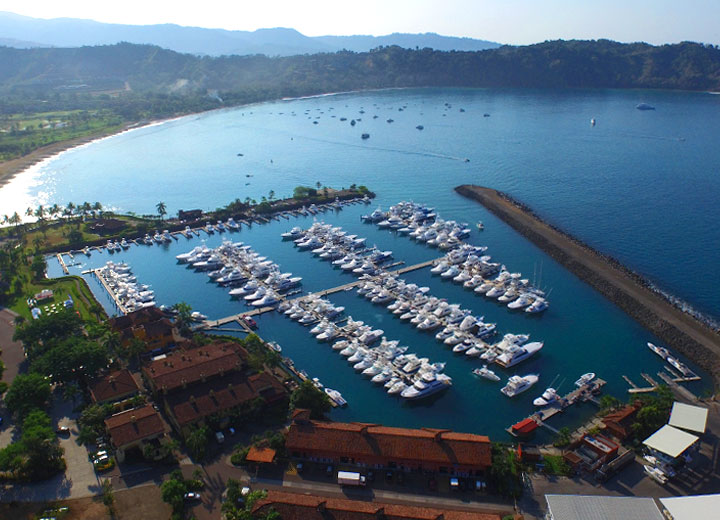 Los Sueños Marina and Village in Herradura
Los Sueños Resort and Marina
Los Sueños Resort and Marina is 20 minutes from Jaco, and is located at Herradura Beach. Entry to the resorts' main road and outdoor mall area is free and open to the public. The residential areas are restricted access only, and so is the private part of the marina.
World Class Sport Fishing
Los Sueños Marina is the sport fishing capital of Costa Rica, and all of Central America! It is the best place in Costa Rica to
charter a sport fishing boat
and head out on the pacific for the day. Also a good idea to review our Costa Rica
fishing calendar
for more information on types of fish and best times of year.
Los Sueños Village
OK, not exactly a village, more like a small outdoor mall, but still a nice place to check out for an hour or two. The Hook Up bar and restaurant has great views of the Marina and of Herradura Bay. There are a couple more restaurants, a nice bakery, a bank, and a handful of shops to go to.
La Iguana Golf Course
World class 18-hole Golf Course designed by Ted Robinson. PGA qualified instructors and a 6700 yard course carved out of Costa Ricas natural landscape, make this an ideal course for intermediate to advanced golfers.
Cafe Bohio on main street in Jaco.
Drink Coffee and Eat Chocolate
Take a break (lol from being on vacation:) and head out for nice cup of coffee and a tasty treat.
Coffee
Coffee is exceptional in Costa Rica, and available all over Jaco. Café negro or café con leche, capuccino, iced coffee and more. Whether at the super market grabbing a bag of 1820 (locals standard) or any of the smaller independent brands, or going to any one of the many coffee shops, like
Bohio Roasters
in the center of town, Café Colombiano and Café Britt in Jaco Walk, coffee lovers will be pleased with the many options available.
Tarazzu, Tres Rios and Naranjo regions have ideal climate and soil, and produce much of the best beans. A lot of which is exported all over the world, but there is still plenty availble here for local consumption.
Cacao
Cacao beans grow in much of the country, and have recently replenished with many independent farmers. The beans were considered by indigenous people of Costa Rica as a currency, and even sacred, as special drinks were made to be used in ceremonies. There are also many heath benefits in cacao, ok maybe not in a bag of M&Ms, but in a bar of dark chocolate yes.
All that being said, they now make delicious chocolate treats in Costa Rica, and some shops in Jaco like
Fruity Monkey Poop
carry oraganic specialty chocolate worth checking out. There is also a new Chocolate tour in the area, with more info and details coming soon.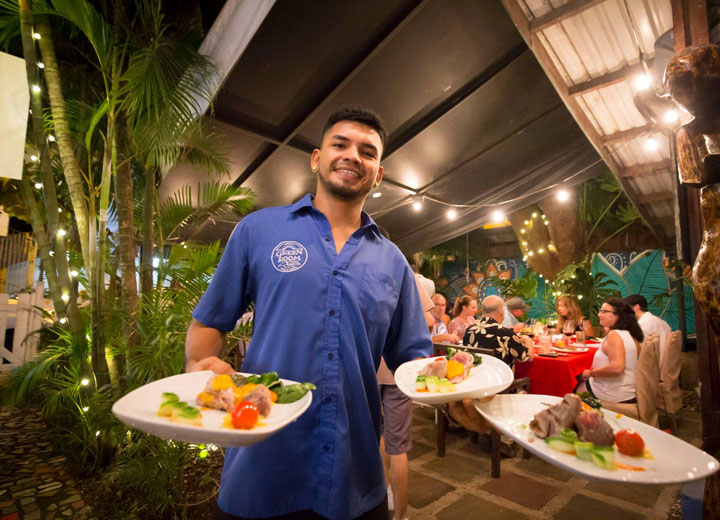 Green Room restaurant in Jaco center.
Restaurants: Local and International Cuisine
10 years ago in Jaco there was not much to choose from, but now there is a wide variety of high quality restaurants in town. We will add a Jaco Restaurant Guide in the near future, but for now here is a short list of some favourites.
Costa Rica Sodas
Local food restaurants in Costa Rica are called Soda. It has nothing to do with fizzy drinks, and not sure where the expression comes from. Some sodas are cafeteria style (Soda Rustiko - most popular near center of town) where you pick what you want and they add up a price, and some are with a menu brought to your table (Soda Marea Alta - closer to South end).
Most typical dish is called a Casado, which consists of salad, rice and beans, vegetables and a choice of meat. This tends to be the best value for what is usually a good meal.
Restaurants
Sushi (fresh tuna available in Jaco makes this a favorite). Multiple Italian restaurants, Thai, French, American standards, Mexican, Colombian, Peruvian, Seafood, Steak, Pizza, Breakfast lunch and Dinner. Pretty much everything is available with some very good choices. The prices are moderate (not cheap) and comparative to US restaurant prices.
Right in the center of Jaco is the
Green Room
which is a large open air restaurant that has been around for many years. They have live music every night and a great selection of local micro-brewery draft beer. Jaco Walk at the North end of town is an open air "mall" with a hand full of restaurants (some with A/C and some outdoor), like Grafitti, Hamburguesia, Tsunami Sushi and more.
When you book your vacation package with JacoVIP, our concierge team will guide you to the best choices depending on what you're looking for.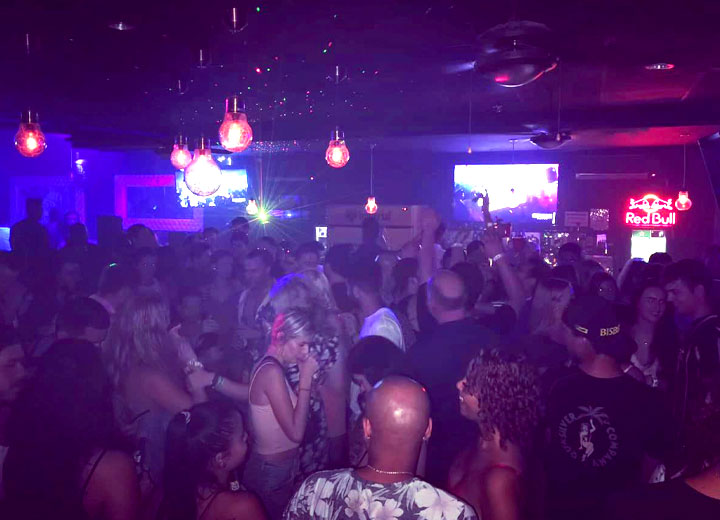 Dance floor at Republik Lounge in Jaco
Jaco Nightlife
In the last few years
Jaco nightlife
has become famous. After dark, this is a party town. Jaco Beach is often referred to as the Vegas of Costa Rica. Although only a fraction of the size, you can still pretty much find all the same party.
Fridays and Saturdays are often crowded with a mix of tourists on vacation, and locals from San Jose who come to the beach for the weekend. There are quite a few bars and clubs, and a couple of casinos, but not all of them are worth going to. Depends on what you are looking for. When you book your vacation with JacoVIP, our concierge team will be available to guide you to the best spots.
Republik Lounge
In the center of Jaco,
Republik Lounge
is the most popular and best place in town for bottle service, great DJs, hookah, dancing and all around fun and cool vibe. If you are a group of people, bottle service at a VIP table is the way to go. This is the best way to have some space for yourselves, and invite someone to join you if you want.
Party Like a Rock Star
There are a lot of people who come to Jaco specifically for the nightlife including
bachelor parties
and bachelorette parties, birthdays, family reunions, spring break and more. Of course, party people are not the only types of groups and people who to come to Jaco for a vacation. There are also lots of large and small family groups, corporate retreats and others, so it is important to accept and respect each other.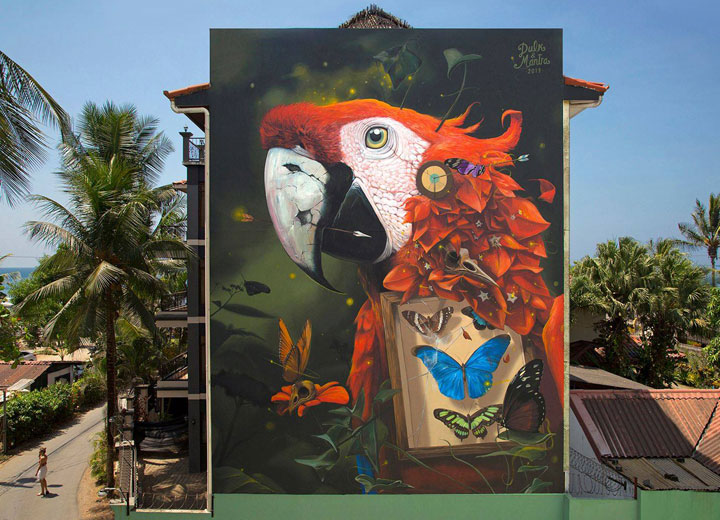 5 storey mural at Pacific Palms.
Incredible Murals and Local Artists
Jaco has an incredible amount of artwork for a small town. There are many talented artists whose paintings you can find and purchase around town. The largest gallery is Zukia and is located on main street across from central park. There is a walking tour of Jaco's murals, grafitti, and public artwork.
Murals
The largest contributor to Jaco's new art scene is
Artify Jaco
who have brought international attention to this small town. Large murals have been painted on many commercial buildings, some of which were privately commissioned, and some came to life by the donated efforts of this organization and it's sponsors. The attached photo is a 5 storey mural on the east wall of
Pacific Palms
a Jaco VIP vacation rental house.
Unique Gifts and Artwork.
There are many gift shops in Jaco. A great place to find unique gift items is at
Tico Pod
on main street. None of the items say
"Welcome to Costa Rica"
on the front side, and
"Made in China"
on the back. All hand made products and artwork from Costa Rica artists. Beautiful leather bags, jewelry, household items, souvenirs, trinkets and of course paintings.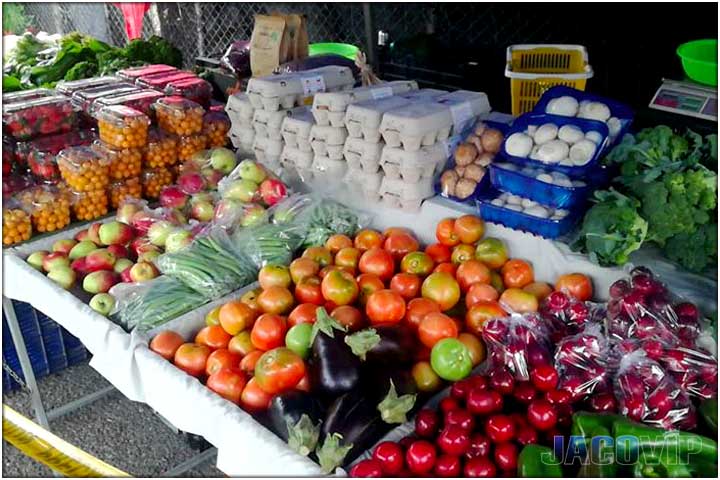 Friday morning at Jaco Farmers Market
Farmers Market
If you're in town on a Thursday evening (5pm to 8pm) or Friday during the day (7am to 3pm) it's worth it to head over to the Jaco Farmers Market to check out some local produce and speciality items. If you have a kitchen and are cooking some meals at your vacation rental, you will definetely want to pick up some fresh fruits, veggies, meats, bread and cheese.
There are many vendors selling a variety of other products like organic honey, coffee, specialty oils of different types, herbs, insence, jewelry and many other local items as well.
Please note that open hours are not precise and could vary by an hour or two depending on the season.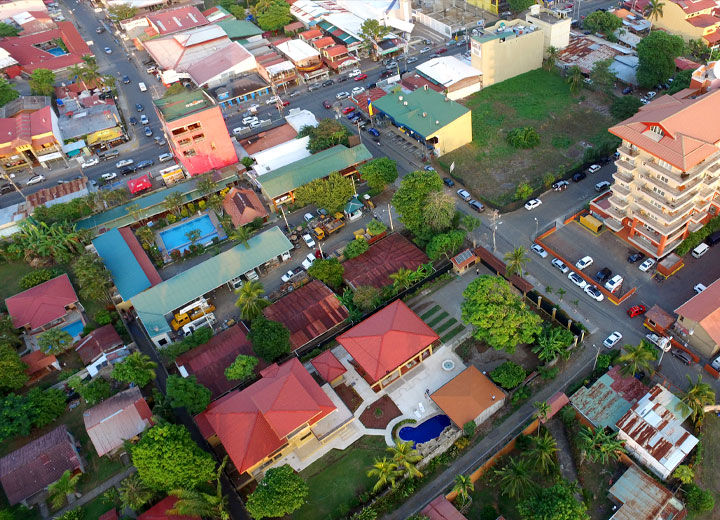 Drone view of Jaco center.
Recap and Conclusion:
There are many cool things to do while on vacation in Jaco. There are mostly very good aspects to the town and only a couple of not so great.
Yes, Jaco is known as a party town because of the exceptional nightlife. Also yes, Jaco is a great place for kids and families who want to chill out and enjoy the beach. Small town life is cute and vibe is positive. There are a couple sketchy people at night (like any town), but not many.
Most of the locals are friendly, and many speak English. It is a safe place, with simple common sense practice you can go almost anywhere in town at any time. Do not go to the beach at night, it is dark and can be dangerous to go swimming in the ocean at night (common sense).
There are a lot of fun tours, good bars and restaurants, great coffee and ice cream. There is lots of exotic wildlife to see. The sun is hot, the ocean is warm and inviting. Sunsets are incredible. The town has everything you need from groceries to pharmacies and private clinics. The surrounding mountains are lush and tropical. I love it here, and probably you will too.